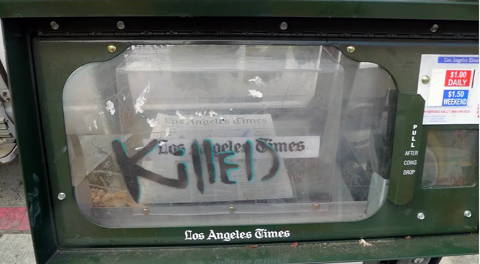 Unfortunately, the previous use of harsher solvents have already damaged the plastic.

If the lexan is already very old, degraded by UV or cloudy from other solvents being used, there is a chance that it may be damaged further by any removal product. As always, test a small area first and wait until the sheet dries before full scale removals. This is because any cloudiness may be hidden by wetness.
Remember, green scouring pads will scratch lexan and perspex, so go easy on the agitation.
Graffiti Safewipes Remove Wax Crayon from Powder Coated Newspaper Vending Box.

1) If graffiti is not coming off easily, you're doing it wrong. You may require a change of tact or use of another product.

2) If you can't remove a little bit of graffiti, then you're not going to remove a lot! TEST FIRST before applying product to an entire job. This way you can determine if you're on the right track before embarking on full scale removals.

3) If you're working hard, you're doing it wrong. Forget the scrubbing, blasting and any other abrasive measures. Put simply, either your products are working or they're not. Any problems can be taken care of with the right technique.